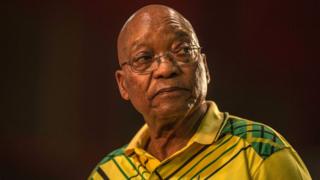 South Africa's ruling African National Congress (ANC) has formally asked President Jacob Zuma to resign, a senior party official has confirmed.
The decision to "recall" him "urgently" followed marathon talks of the ANC's top leadership body.
Mr Zuma, 75, agreed to step down, but only in the next three to six months, the official added.
Mr Zuma, who has been in power since 2009, has been dogged by corruption allegations.
Six reasons why Zuma is under pressure
The many trials of Jacob Zuma
But he has resisted increasing pressure to quit since December, when Cyril Ramaphosa replaced him as leader of the ANC.
Ace Magashule, the ANC's secretary-general, told reporters the ANC's National Executive…